Latest News
This page will give you some information on key activities and news.
If you would like to contribute, please contact us via info@optical-coatings.com.
LuxLive 2017
LuxLive 2017 has been a very successful exhibition for us.
We had a very high footfall and many high quality visitors, including a number with current coating requirements.
Of particular interest to our visitors (based on the number of positive comments) was the sheer range of coatings we can apply to Polycarbonate and Acrylic as well as our demonstrably high quality.
We've put our name down for 2018, so see you there!
And then to round off an excellent exhibition, we had the pleasure of meeting Frank Bruno MBE. Mr. Bruno was of course the 1995 WBC World Heavyweight boxing Champion.
He's seen here with our sales and marketing assistant Tara.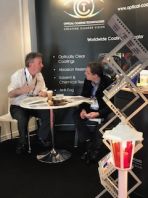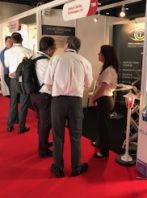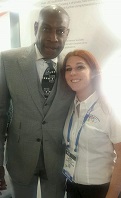 ---
Floor resurfacing completed
We've finished resurfacing the concrete floor in one of our units. The old coating had come to the end of its life and was looking rather untidy, especially for a coating applicator!
These first three photos show the floor as it was, part way through cleaning and after coating.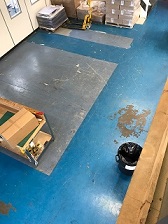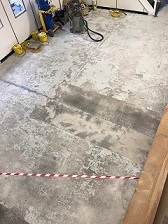 The cleaning and coating application was carried out by a specialist contractor.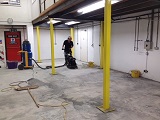 ---
RVE Expo Derby 2017
2017 and it's the RVE expo in Derby. Focusing on rail vehicles and enhancements, we took the opportunity to show the industry our capabilities in connection with coating Polycarbonate.
The parts we coat for the rail industry are varied and sometimes quite complex shapes. This ability to be able to coat 3D shapes is unique in the UK.
Attending the show were our customer contact team lead by Sales & Marketing Manager Nick Croad. Nick commented that the show "created a great deal of interest for our coating services".
 And it was a great opportunity to meet up with old friends - and make new ones of course!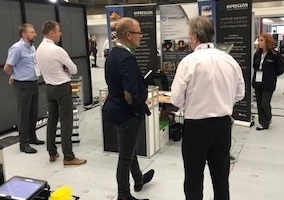 We've been able to post excellent 2017 half year results, coming in above budget for revenue and operating profit. This is clearly a team effort and thanks have been given to all involved. 2017 H2 looks promising with some really interesting and live projects getting close to completion. If you've got any requirements for optically clear coatings onto plastic, give us a call or send us an email. We'll be glad to help.
A small stand at this years Rail Live show in June generated some interesting leads, as did the efforts of the team on the stand. And it gave our new sales and marketing manager Nick a taste of what we can offer the railway industry.
---
February 2017 - Congratulations to Jon in winning the company's biggest unique order by value and by volume of parts. 
---
New staff member joins team
The year has started well with a strong order book and we welcome Tara to the team. Though based at our sister company's site, Tara will be using her extensive sales and marketing skills to help develop Optical Coatings alongside Jon and Joe.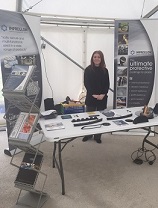 One of Tara's first tasks was to help man our stand at the Rail Alliance "Light After Dark" event at Long Marston on February 1st. Although the event was not as well attended as at previous years, our Business Development Manager commented that "it gave us the opportunity to have lengthy conversations with clients without the normal pressures experienced when meeting during the working day".
Joe was pleased to see products coated with our coatings on display on other stands, a testament to both our coating services and our clients foresight in seeing the benefits of our optical coatings.
If you would like to be a part of our winning team and have a need you think a coating would solve, then please contact Joe, Jon or Tara.
---
LuxLive 2017
November 2016 at the ExCel in London for LuxLive - we showed our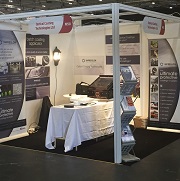 ability  to coat complex 3D shapes in a variety of coating options. 
Our team enjoyed a successful event, though the 12 hours of showing on the first day took it out on our feet!
Our Business Development Manager felt that "LuxLive this year was a fantastic show with great leads". The light and airy feel of our stand was much commented upon by other exhibitors and visitors alike.
We're looking forward to going back there next year.
---
Advanced Engineering NEC

In early November 2016 we exhibited at Advanced Engineering at the NEC.
Our stand was very popular and we met several interesting prospective clients. Of particular interest was our range of new and novel coatings.
---
MedTec Ireland 2016
For the first time we exhibited at Medtec Ireland, on October 4th and 5th 2016 in Galway. 

Medtec is Ireland's largest pure medical design and manufacturing event that is dedicated to providing a platform for suppliers together with professionals to meet and do business.
We had a very good show with many visitors specifically coming to see us to talk about our coating services.
For more information on our successful show, please contact us.
---
Congratulations to our supervisor Laura, who's just given birth to a healthy boy - Noah. Best of luck from us all at Optical. 05/09/16.
---
Rail Live 2016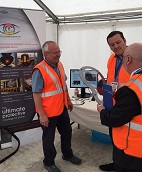 Rail Live 2016 took place in late June this year at the Rail Alliance site at Long Marston.
We were there showing our coating services to the rail industry.
So that's abrasion resistant coated Polycarbonate sheet and 3D shapes, anti-grime coated Polycarbonate, anti-fog, etc.
A quiet but high quality event.
---
Automotive Interiors 2016, Stuttgart Germany
Early June 2016 and it must be Automotive Interiors, Stuttgart.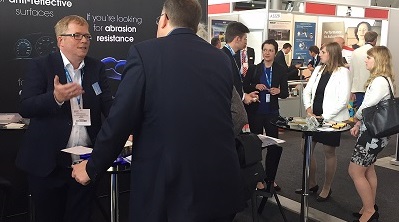 Exhibiting with our two of our sister companies from the Impreglon Group, we had on show a selection of typical plastic components that can be and are coated to improve their appearance and performance. We also had on display for the first time our Chrome replacement coating for plastics.
The show enabled all visitors the opportunity to see new coating developments and to meet colleagues from different Impreglon sites. And a visit from our main board demonstrated our commitment to the European automotive interiors industry.
if you were not able to attend the show and would like to know more about our coating services or new coating developments, please click here.
April 2016 saw us exhibiting at Infrarail at ExCel, London. We had an excellent show with dozens of clients requesting more information on our abrasion resistant, anti-fog and anti-grime coatings. 

Overview of Infrarail 2016.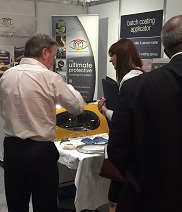 Visitors to our stand came from a wide cross section of the railway industry, from rolling stock through infrastructure to support. Of interest to everyone was how we can help the railway industry gain enhanced performance by using our coating services. 
The Infrarail 2016 show covered two halls of the ExCel centre, with our stand being perfectly located near the central isle and the networking area.
Many visitors complimented us on the professionalism of our in house built abrasion resistant coated Polycarbonate demonstration unit, so thanks to Steve at Optical Coatings for his hard work.
---
Need an anti-grime Polycarbonate surface? 
Need an anti-grime Polycarbonate surface? Take a look at our latest video.
March 2016 saw us achieve our highest ever monthly sales of coated Polycarbonate sheet. Our success came from our ability to offer an unrivalled range of specialist coated Polycarbonate. 
As a member of the Rail Alliance we had a booth at the recent Light After Dark event held at the Rail Alliance site at Long Marston. Of great interest were our anti-graffiti and anti-grime coatings. We are now in discussion with clients from this show in connection with two significant projects. For more information on these coatings and how they can help you, please contact us. info@optical-coatings.com. 
---
2015 Review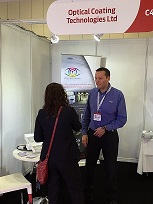 A very successful showing at November's LuxLive 2015 saw us meeting existing clients and many new prospective clients from around the world.
Of great interest was our coating range, capacity and expertise. LuxLive is Europe's biggest annual lighting event and this year LuxLive joined forces with Strategies in Light Europe and new architectural lighting event, lightspace dot london. It was held at the ExCeL exhibition centre in east London.There were with more than 300 exhibitors and it featured more than 80 hours of free-to-attend talks, debates and panel discussions. The industries who benefited from the show is very diverse: retail, hospitality, healthcare, education, commercial, transport and rail, street lighting and industrial.showcases the latest technology, the best projects and finest experts. 
Our membership of the Society of Motor Manufacturers and Traders (SMMT) is bringing our capabilities to the forefront of the UK automotive industry. We attended the October 2015 Open Forum in Solihull and enjoyed a successful set of meetings with prospective  clients.
June 2015 saw us exhibiting for the first time at Automotive Interiors, Stuttgart along with sister companies from Impreglon in Germany. Click here to see photos of the very successful show. The exhibitors represented the A-Z of car interiors, with exhibitors' products being found in vehicles from just about every car manufacturer you can name, from Ferrari, Maserati, McLaren and Porsche through to GM, Volkswagen, Jaguar, BMW, Kia and Toyota, to name just a few! The show is a must-visit for Tier 1 and Tier 2 suppliers as well as for interior design teams from car manufacturers wanting to keep up with the rapidly changing world of materials, finishes and technologies that contribute to 'touch and feel'.
In April 2015 we showed at Railtex at the NEC. As the UK's leading rail event covering railway equipment, systems and services, Railtex is the industry's meeting place - where visitors and exhibitors come together to see the latest technology in action, learn about new products/services, hear about key industry projects and do business.